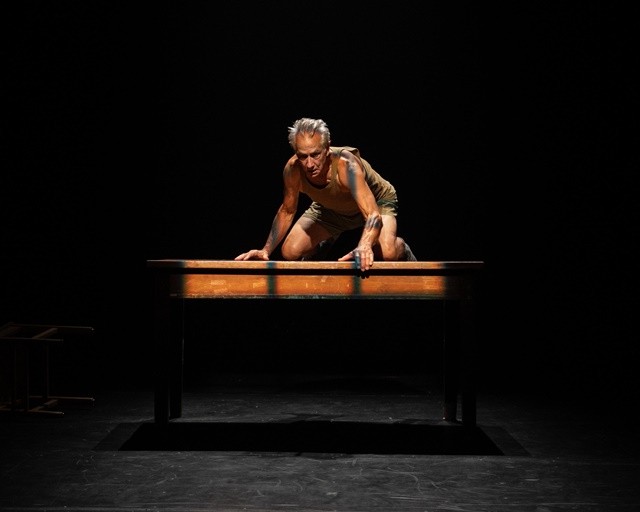 David Strathairn as Karski in Remember This: The Lesson of Jan Karski, enacting Karski's escape from the Polish hospital (Photo: Teresa Castracane)
The critically-acclaimed show Remember This: The Lesson of Jan Karski has had another successful cycle of performances, this time at Georgetown University's Gonda Theater, on May 13-22, 2022. Academy Award-nominated David Strathairn's electric portrayal of Karski provoked a profoundly emotional reaction in the audience. At the same time, the Q&A sessions after each performance gave them a chance to strengthen their understanding of the Karski legacy and its contemporary relevance.
The Georgetown audience left the show utterly enthused and moved:
"Remember This casts a spotlight on a man who didn't feel he deserved it but who showed – through both his actions and words – that one person's deeds can have the force of thousands. I came to the show expecting to see a narrative of a powerful life. I certainly left with that impression but also with a deeper appreciation of the potential of all our singular impacts."— Eve Conant.
"It's worth seeing because so many people have no concept of what war was like. Remember This gives us a small glimpse."— Helena Sigman, World War II refugee, 87 years old.
"As a former student of late Jan Karski, I have been familiar with the Karski story for a long time, especially over the past ten years, dating back to the Centennial Campaign [to award him the Presidential Medal of Freedom] and spread the Karski legacy. I had even read the current playscript (note to all: get the GU Press book) just before going to see a performance at Georgetown University on May 18. I was, therefore, a little surprised by how David Strathairn's inspired portrayal struck me with new energy, new insights, and renewed wonder, almost as if hearing the Karski story for the first time. There is a breadth and depth to it that simply cannot be captured on a written or drawn page. This story must be told."— Thomas M. Sneeringer, Georgetown University Class of 1970, member of the Jan Karski Educational Foundation's Advisory Board. (Read Mr. Sneeringer's full review here.) 
"I was tremendously impressed with the way David inhabited Karski at last night's performance. It was a simply magnificent experience to feel that I was once more in a room with the Professor. I am most grateful that I could attend."— E. Thomas Wood, author, Karski: How One Man Tried to Stop the Holocaust.
The play's opening night on May 15 gathered many notables, both local and those who came from far just to see this remarkable performance. There was a considerable delegation from the Embassy of the Republic of Poland, including the Ambassador of the Republic of Poland to the U.S., Marek Magierowski, and Assistant Defense and Military Attaché, Lt. Col. Daniel Drogomirecki. Also present were Jacek Nowakowski, Senior Curator for Collections at the United States Holocaust Memorial Museum; Aimee Segal, Director of the Strategic Initiatives and Programming at the United States Holocaust Memorial Museum; Cynthia Schneider, former U.S. Ambassador to the Netherlands, co-founding director of The Laboratory for Global Performance and Politics at Georgetown University; Father Dennis McManus, Georgetown University faculty member with the Program for Jewish Civilization in the School of Foreign Service; Deborah Tannen, Ph.D., Professor at the Department of Linguistics at Georgetown University; E. Thomas Wood, author of Karski's biography Karski: How One Man Tried to Stop the Holocaust; Anna Van Matre, Polish-American artist and Karski's friend; and Janos Szazs, a Hungarian director. The Jan Karski Educational Foundation was represented by Andrzej Rojek, JKEF Board Director, and Bożena U. Zaremba.
The talk-back discussion that night included: David Strathairn; Georgetown students Nyasha Gandawa and Alexandra Bowman; Derek Goldman, the co-writer and director of the play; and Jacek Nowakowski. Nyasha Gandawa and Alexandra Bowman reflected on the impact of Jan Karski on GU students through the "Bearing Witness: The Legacy of Jan Karski Today" course. Jacek Nowakowski, who knew Karski personally, recalled him as a wise man. "Whatever he said had a purpose; whatever he did, he did with purpose," he said. Derek Goldman emphasized the importance of the creative team's interaction with students. David Strathairn expressed his appreciation of the insight into Karski's persona provided to him by all those who knew him.
Here is the most recent review of the play published in the Washington Post. 
This production of the play, co-written by Clark Young and Derek Goldman and directed by Derek Goldman, was created by The Laboratory for Global Performance and Politics at Georgetown University and is organized with the support of the Jan Karski Educational Foundation.