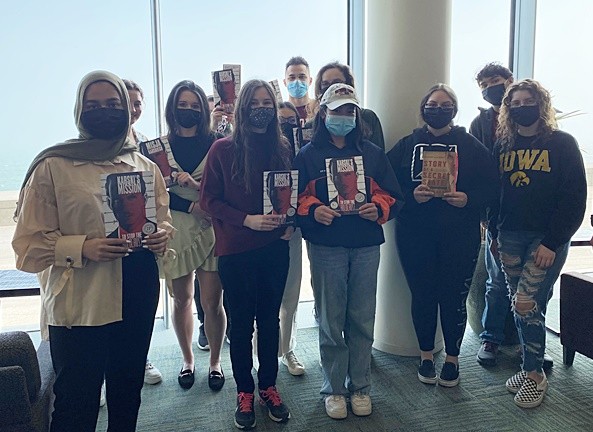 Loyola University Chicago students with the graphic novel "Karski's Mission: To Stop the Holocaust"
The graphic novel Karski's Mission: To Stop the Holocaust has yet again opened the eyes of young readers, who had a chance to learn about Karski's background and mission and the contribution of the Polish Underground to WWII resistance. Loyola University students read the book in the "Eyewitness Literature of World War II" course taught by Dr. Marta Ochyra-Olchawa at Loyola University Chicago. This course is part of the Polish Studies Program at LU.
Their comments below show how inspired they were by Karski's incredible ordeal and his righteous character.
"I really enjoyed reading about Karski's life through his graphic novel. Seeing the pictures along with the story helped me see and understand the many difficulties that Karski had to go through as well as his bravery and courage to help those in times of trouble even if it meant risking his own life. Seeing how selfless Karski was through this graphic novel was truly inspirational."—Mikaela 
"Karski's Mission: To Stop the Holocaust, written by Rafael Medoff and illustrated by Dean Motter, shows the importance of selflessness and courage. During the time the novel was set, many overlooked what was happening in the ghettos and refused to get involved. Karski shows how a small resistance can open the doors to greater things and how bravery is the most important trait in times of oppression."—Mimi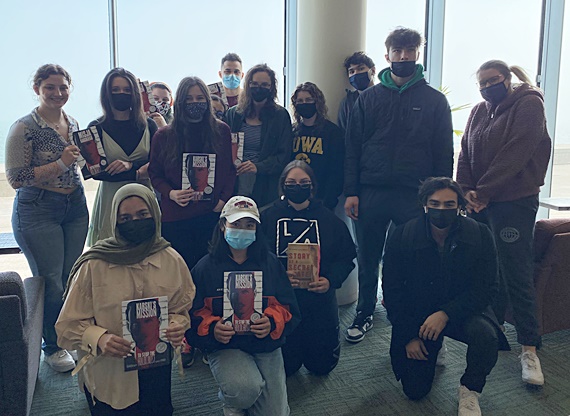 "Karski's message and life's work show the world that good and righteousness will still shine through, no matter what atrocities take place. Karski's willingness to sacrifice all he had for the betterment of humanity remains a beacon of hope in all situations of despair."—Riley
"Because of this book, I was able to learn about not only who Jan Karski was but also his contributions and devotion to Poland. Without the Foundation and this novel, I probably would not have known who Jan Karski was, his life story, or how much his contributions helped during the Second World War."—Annabeth
"Jan Karski's graphic novel is a great medium to convey the horrors he witnessed and tell the story of Polish Resistance in WWII. It is an effective and concise method that makes the reader interested to learn more, particularly to a United States student who may not otherwise have learned about the Polish Resistance."—Madeline
More information about the graphic novel including how to purchase a copy at a discounted price can be found here.
Special thanks to Dr. Marta Ochyra-Olchawa and Bożena Nowicka McLees, Director of Polish Studies Program at the Department of Modern Languages and Literatures at Loyola University Chicago, for their support in promoting the Karski legacy.
(Photos: Courtesy of Dr. Marta Ochyra-Olchawa)