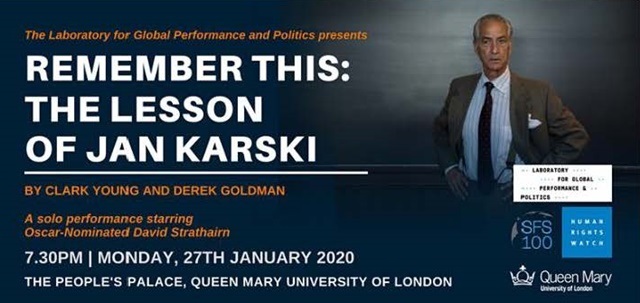 Queen Mary University of London will be hosting the UK premiere of a virtuoso performance by the Oscar-nominated actor David Strathairn. The actor has been nominated for an Oscar and has appeared in films such as Good Night and Good Luck and Lincoln. Here's an illuminating interview with the actor about how he approaches this role.
The play, which was orignally performed at Karski's long-time employer Georgetown University, was written by Clark Young and Derek Goldman. The play is directed by Goldman.
This thought-provoking play recaps the legacy of Jan Karski, a Polish Catholic World War II hero, Holocaust witness, and late beloved professor at Georgetown's School of Foreign Service. 
After the play, the evening includes a panel discussion and live Q&A with the Director, Actor, politician and human rights expert Baroness Arminka Helic, and Queen Mary's Penny Green, a Professor of Law and specialist in the study of genocide and state crime. The conversation will be moderated by Razia Iqbal, special correspondent for the BBC.

The play will be performed in the grand 778-seat Great Hall of Queen Mary's historic People's Palace at Mile End campus, a few minute's easy walk from Mile End and Stepney Green Tube stations. The location is the People's Palace, Queen Mary University of London,  Mile End Road, London E1 4NS. 
To get tickets, use this Eventbrite link. You need to order tickets by January 25.
Sponsors for this performance include the charity Human Rights Watch and Georgetown University's Walsh School of Foreign Service, along with the Jan Karski Educational Foundation.