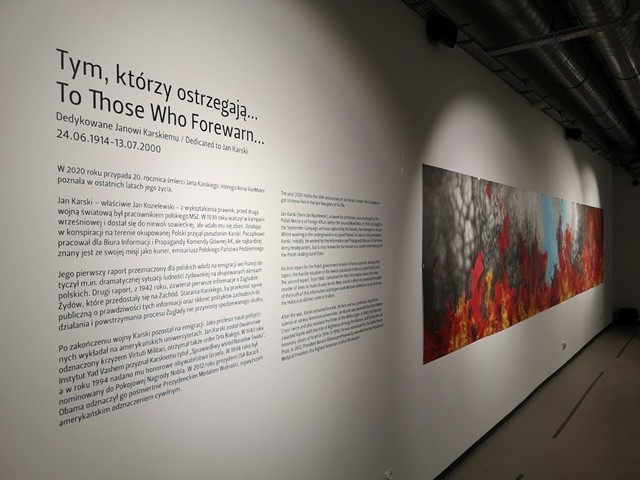 Artwork dedicated to Jan Karski by Anna VanMatre, displayed at the Galicia Jewish Museum in Kraków (Photo: Tomasz Strug)
Kraków, Poland – On July 13, 2020, the Galicia Jewish Museum in Kraków, Poland, opened a new, two-part exhibition by a Polish-American artist Anna VanMatre. The first part, entitled "To Those Who Fight…," is devoted to the heroes of the Krakow Ghetto, the second— "To Those Who Warn…"—to Jan Karski. The artist employs multi-layer photographs combined with graphite and pastel drawing and has created the art pieces with the space of the Galicia Jewish Museum in mind. "To Those Who Fight…" consists of ten vertical panels (64"x29" each) and was inspired but Katarzyna Zimmerer's book, The Chronicle of a Murdered World.
"To Those Who Warn…" is a one-panel artwork (290"x51") and is the artist's tribute to Jan Karski (whom the artist met in the final years of his life) on the 20th anniversary of his death. This vast composition conveys the enormity of the evil that the emissary of the Polish Underground witnessed at the Warsaw Ghetto and Izbica transit camp and later reported on to the Western leaders and intellectuals. Two years ago, a three-panel version of this artwork was shown at the International Youth Meeting Center in Oświęcim-Auschwitz. On that occasion, Anna VanMatre granted the Jan Karski Educational Foundation an interview, which can be read by following this link.
To Those Who Fight...

To Those Who Warn...

While Anna VanMatre could not participate in the opening because of the pandemic, she has been following all the news about how Jan Karski was remembered 20 years after his death.
"I was lucky to know Jan Karski in the last two years of his life. Having retired after teaching at Georgetown University for almost forty years, he probably missed teaching, and he always spoke passionately like a dedicated, inspirational teacher," said the artist. "Even though I had read books by him and about him, hearing his stories told to me personally, and with such great emotion, left an indelible impression on me. I feel strongly that the world, and especially young people, need to be reminded of his warning about hatred, now more than ever."
The exhibition will run through October 31, 2020.
Born in Poland, Anna VanMatre graduated from the High School of Fine Arts in Kraków and the Academy of Fine Arts in Warsaw. Her unique technique of using synthetic paper, layers of graphite, and three-dimensional effects, has evolved over the years. She began by creating monochromatic compositions depicting cloud formations, often saturated with sunlight. In her later work, color became an important vehicle for emphasizing the energy of water, fire, and volcanoes, as well as that of human predicament and emotions. Her art focuses on exploring the boundaries between the real and abstract worlds. Anna VanMatre lives and works in Cincinnati, Ohio. The artist's official website: www.annavanmatre.com.
Related Materials:
Official Catalogue of the Exhibition: to-those-who-warn-2020-catalogue.pdf
Interview with Anna VanMatre (2018): https://www.jankarski.net/en/news-and-events/news/the-everlasting-dichotomy.html