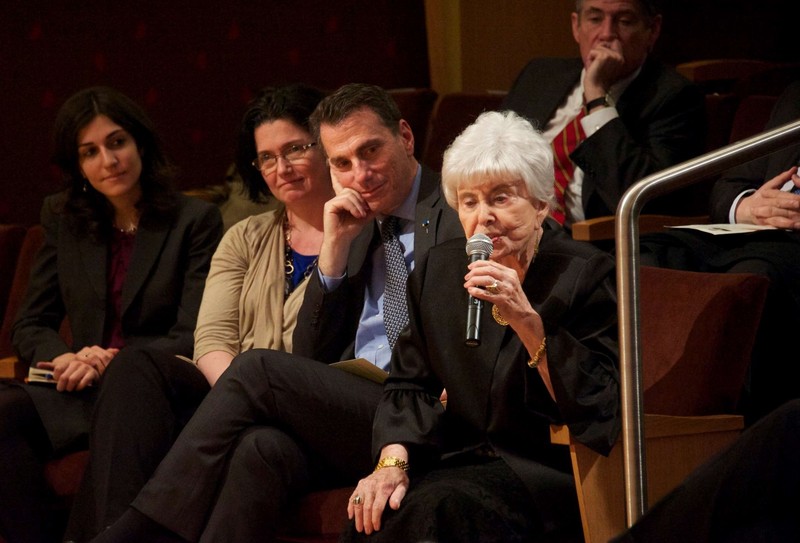 Kay Mirecka Ploss speaking at the launch of Karski's wartime memoir Story of a Secret State at Georgetown University in 2013.
It is with great sadness that we announce the passing of Kaya Mirecka Ploss, a Polish-American fashion designer, writer, humanitarian, and Jan Karski's companion in his final years. She died on July 13, 2023, in Washington, D.C., at the age of 98.
We at the Jan Karski Educational Foundation had the pleasure of engaging with her around passion for promoting the legacy of Jan Karski. When the Foundation's predecessor, the Jan Karski U.S. Centennial Campaign, launched its successful campaign to secure a posthumous Presidential Medal of Freedom for Karski, Kaya Mirecka Ploss lent her name to our efforts. She not only signed the letter of nomination to former President Barack Obama petitioning this highest civilian honor for Karski but mobilized the Polish-American community in the Washington, D.C., area to raise awareness.
"Kaya was a most memorable and engaging personality," remembers Wanda Urbanska, Jan Karski U.S. Centennial Campaign's Director and Jan Karski Educational Foundation's former president. "She was a remarkable raconteur, with a sharp memory and keen eye for detail. As soon as she met Jan Karski, she knew she was in the presence of a remarkable hero for Poland, Israel, and humanity."
Kaya Mirecka Ploss was born in 1924 in Piekary Śląskie, Poland, to a poor family. During World War II, she was imprisoned in a forced labor camp but survived and joined a Polish Army traveling theater. After the war, she lived in London for a few years, where she graduated from high school, and then Saint Martin College of Art, where she studied fashion design. She continued her studies in Germany but, in the late 1950s, decided to return to Poland, where she established a successful career in fashion design. However, after refusing to inform on her friends from Radio Free Europe, she was arrested by the Polish authorities and jailed for a couple of weeks. With support from a prominent Polish writer, she was eventually released, but in 1966, she was forced to leave her homeland and emigrated to America.
Besides her professional life (she worked for Saks Fifth Avenue), she became active in the Polish-American community as the co-founder and Executive Director for the American Center of Polish Culture. After Karski's death in 2000, she founded the Jan Karski Institute for Tolerance and Dialogue in the U.S. and Poland and helped create Jan Karski's interactive office near her hometown with Karski's memorabilia, including his desk and a Righteous Among the Nations diploma. In her memoir, Jan Karski: The Man I Told the Truth, she talks about their longtime friendship and paints a personal picture of a sensitive, fragile, but assertive man. Coincidentally, or symbolically, she died on the 23rd anniversary of his death.
Please read Kay Mirecka Ploss's obituary, which includes a comprehensive account of her incredible life: https://www.legacy.com/us/obituaries/name/kaya-ploss-obituary?id=52456013
We also recommend a documentary about this iconic lady, Everything Is in Your Hands (Polish title: Ja, Kaja - dziołcha ze Śląska) by Emmy-winning filmmaker Sławomir Grünberg (author of the award-winning documentary Karski & The Lords of Humanity). It can be rented at
Vimeo: https://vimeo.com/ondemand/kayahome
Amazon Prime: https://watch.amazon.com/detail?gti=amzn1.dv.gti.9208881a-ab98-4e4a-b629-cf3491015c3d&territory=US&ref_=share_ios_movie&r=web
(in Polish with English subtitles)