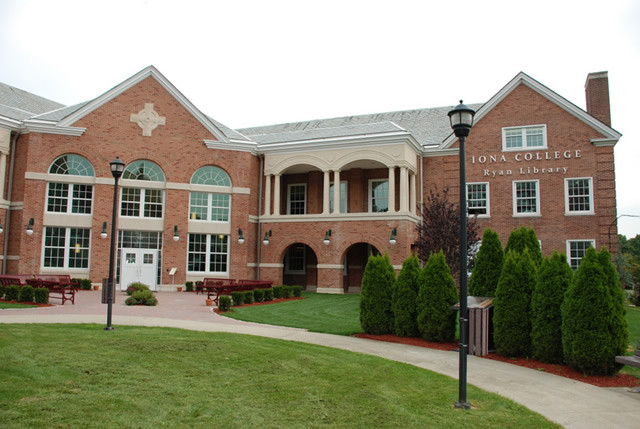 Iona College's Ryan Library (www.iona.edu)
The World Knew: Jan Karski's Mission for Humanity exhibition was hosted by Iona College from October 26 until December 3, and was viewed by a diverse audience: Iona College students and faculty, students from the Purchase College of the State University of New York, as well as community members from around the NY metropolitan area, including representatives of the American Jewish Committee. Andrzej Rojek, the Chairman of the Board of the Jan Karski Educational Foundation spoke at the opening of the exhibition, which was attended by at least 200 people. He talked about the history and mission of the Foundation and pointed out how the Karski legacy is relevant in the 21st century.
The exhibition presentation was organized around the Annual Shoah and Kristallnacht Commemorations. On November 9-10, 1938 the Nazis staged vicious pogroms – state-sanctioned anti-Jewish riots – against Jewish communities in Germany and parts of Austria.  The term, Kristallnacht (usually translated as "Night of Broken Glass"), is a reference to the thousands of Jewish homes which were ransacked along with more than 1,000 synagogues and 7,000 Jewish businesses. These pogroms marked an intensification of Nazi anti-Jewish policy that would culminate in the Holocaust and Shoah. To commemorate those events, Iona College presented a series of lectures, including a presentation by Thomas Wood, Karski's biographer (see information about the centennial edition of Karski: How One Man Tried to Stop the Holocaust), and the screening of the new documentary Karski and the Lord of Humanity, by Emmy Award winner Slawomir Grünberg (see more information about the film). The event was described by the Jan Karski Educational Foundation supporter Emily Cohen as "powerful and meaningful."
The event was organized by the Iona College and the Holocaust and Human Rights Education Center in collaboration with the Jan Karski Educational Foundation and Purchase College. 
The tour of The World Knew: Jan Karski's Mission for Humanity traveling exhibition is organized by the Jan Karski Educational Foundation. The exhibition was created by the Polish History Museum with a major support from the Polish Ministry of Foreign Affairs. Additional funding was provided by the National Endowment for Humanities. Any views, findings, conclusions, or recommendations expressed in this exhibition publication do not necessarily reflect those of the National Endowment for the Humanities.