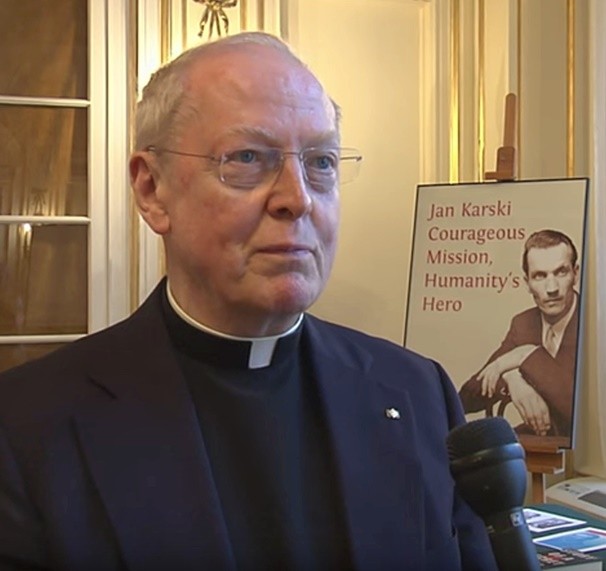 Father Leo J. O'Donovan speaking about Jan Karski at the inaugural dinner that kicked off the Jan Karski Centennial Campaign on May 31, 2011, at the Consulate of the Republic of Poland in New York, NY. (Photo: JKEF's Archives)
President Emeritus of Georgetown University and Jan Karski's colleague and friend, Father Leo J. O'Donovan, has been chosen by President-elect Joe Biden to lead the prayer during his inauguration on January 20, 2021. Father O'Donovan has confirmed this news during a private conversation with the Jan Karski Educational Foundation Chairman, Andrzej Rojek.
The tradition of prayer or prayers at the presidential inauguration given by clergy members goes back to 1937 and has become an intrinsic part of this ceremony. President-elect Joe Biden, who will be the second Catholic U.S. president (after John. F. Kennedy), personally called Father O'Donovan and invited him to perform this honorable ritual.
Father O'Donovan has been friends with the Biden family for a long time. In 2015, he celebrated the funeral mass for Joe Biden's eldest son, Beau, who died from a brain tumor at the age of 46. On November 12, 2020, right after the presidential election, Joe Biden participated in the virtual fundraiser for the Jesuit Refugee Service, which helps war-zone refugees. Father O'Donovan is the Director of Mission for Jesuit Refugee Service/USA.
Leo Jeremiah O'Donovan III, S.J., a Catholic priest, Jesuit, scholar, and teacher, was born in 1934 in New York. He graduated summa cum laude and first in his class from Georgetown University in 1956, receiving degrees in English and philosophy. He received advanced degrees from Fordham University and Woodstock College and a Ph.D. in theology from the University of Münster. He served as the president of Georgetown University from 1989 to 2001. Under his leadership, GU became a leading institution of higher education. O'Donovan is a recipient of the John Carroll Award, GU's highest honor, the Knight Commanders Cross with a star of the Order of Merit of the Federal Republic of Germany, the Jewish National Fund Tree of Life Award, and four honorary degrees.
Father O'Donovan befriended Jan Karski at the time when the Polish emissary was a professor at Georgetown University. Their friendship was based on the values they shared. It was Rev. Leo O'Donovan who presided over Jan Karski's funeral ceremonies at St Matthew's Cathedral in Washington, DC, in 2000. He also actively participated in the Jan Karski Centennial Campaign (the predecessor of the Jan Karski Educational Foundation), which led to the posthumous Presidential Medal of Freedom for Jan Karski (May, 2012). During the launch of the Campaign, Father Leo J. O'Donovan remembered Karski: "This was a remarkable man, a devout Roman Catholic who never talked about his personal sacrifices and the courage with which he acted as a courier…After he lost everything in the war, including his country, Georgetown became his home."
We congratulate Father O'Donovan on this remarkable honor.