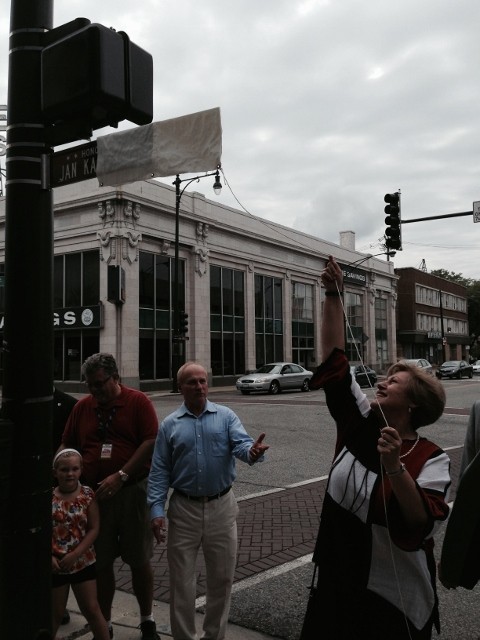 Bozena Nowicka McLees, Board Member of JKEF unveils the "Jan Karski Way" sign. (Photo:Ola McLees)
Chicago – A ceremony naming "Jan Karski Way" took place on Labor Day, September 1, 2014 at noon. Milwaukee Avenue between Lawrence and Higgins Avenue now bears the legendary emissary's name. Jan Karski Educational Foundation board member Bozena Nowicka McLees, represented the Foundation at the event. "The timing of this ceremony couldn't be better," she said, "because 2014 is the centennial of Jan Karski's birth, and we have so many exciting events ahead of us this month." These events include a Jan Karski Memory and Responsibility Conference at Loyola University on Sept. 19 and 20, which was organized by McLees for Loyola's Polish Studies Program, along with the opening of the exhibition, The World Knew: Jan Karski's Mission for Humanity, which opens September 17 at the Illinois Holocaust Museum in Skokie, and runs through January 25, 2015, as well as the play dramatizing Karski's mission, Coming to See Aunt Sophie, which will be performed at the Chopin Theatre Sept. 20 and 21.
Also present at the ceremony were John Arena, 45th Ward representative, Frank Spula, President of the Polish American Congress and Polish National Alliance, and Daniel Pogorzelski of the Jefferson Park Historical Society.
Along with Karski, best known for his courageous mission during World War II to inform the West about the ongoing atrocities in the Nazi-occupied Poland, another Polish Catholic Righteous Among the Nations was similarly honored, Irena Sendler. Sendler, together with her coworkers for the Warsaw Social Work Department, saved over 2,500 Jewish children from the Warsaw Ghetto. Additionally, a section of the same street will be called "Chicago's Little Warsaw" and "Warsaw Chicago Sister Cities Way." The signs with an honorary dedication have a distinct brown color and are customarily placed under the green sign bearing the official name. The ceremony was part of the annual Polish American festival "Taste of Polonia" at the Copernicus Center.