The 2018 Georgetown Leadership Seminar took place on October 21-26, and it was the fifth time that the Jan Karski Educational Foundation funded scholarships for aspiring scholars, diplomats, and civil servants to participate in this prestigious program. Monika Korowajczyk-Sujkowska and Wojciech Szkotnicki were this year's recipients and came back enriched and inspired by this life-changing experience. Please read their comments and impressions below.
Georgetown Leadership Seminar is a prestigious event at Georgetown University, little known in Poland. The incredibleness of this event lies in the fact that about 30 leaders from different countries, cultures and with different professional backgrounds meet together and discuss the most important global issues. Thanks to this diversity of participants and their experiences, the impression is that suddenly, things that are perceived very narrowly in their own country can be seen here from a completely different perspective. This is the strength of GLS: we are so different and yet, we are able to talk and come to common conclusions.
The level of lectures was also amazing. The lecturers were undisputed specialists in their fields, who were able to fascinate the listeners and left us with a sense of how much we still need to learn. It was a real intellectual feast. The amazing atmosphere, lots of meetings, networking opportunities, making new friends, exchanging views, as well as the beautiful architecture of Georgetown, open people, and the spirit of learning made us feel special.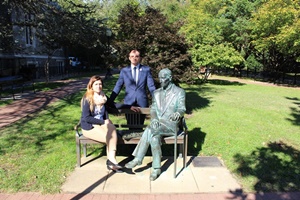 An additional honor for me was my mission: representing the Jan Karski Educational Foundation. I could feel Jan Karski's presence at the University all the time. It all caused this time to be remarkably special for me.
— Monika Korowajczyk-Sujkowska
It's been some time since I came back from Georgetown Leadership Seminar and emotions have somewhat subsided, but the memory of that week will remain with me for the rest of my life.
1.            Competition: Hard Work, Enthusiasm, and Mobilization
I would like to begin by thanking the Jan Karski Educational Foundation for making the scholarship possible, especially [President of Fundacja Edukacyjna Jana Karskiego] Ms. Ewa Junczyk-Ziomecka as well as all the sponsors and people of good will who have contributed to broadening my horizons in the USA.
Of course, getting a scholarship required a lot of work (and sweat and stress), but I am glad that it was recognized. The competition was fierce, which is why I congratulate Monika Korowajczyk-Sujkowska on getting the GLS scholarship, too. After the demanding competition came good news about the results and an outburst of enthusiasm: I will join the elite group of JKEF scholarship fellows and the 1000 graduates of GLS from more than 100 countries! I was in the seventh heaven. However, it quickly became clear that there would be leaders from all over the world, so I had to do my best.
2.            Before GLS
I have already taken part in many conferences, seminars, and workshops, but I have never seen such a good organization and a professional approach on the part of the organizers. Before arriving, I received all the necessary documents and support needed to apply for a visa as well as information about accommodation, transport, the program of the seminar, and local events. I got answers to all the questions, even those that I didn't know I should have asked. For all that, special thanks go to Helen F. McNeill, Consultant of the Institute for the Study of Diplomacy, and James Seevers, Director of Studies and the Georgetown Leadership Seminar, who accompanied us throughout the Seminar and moderated the meetings.
3.            Seminar
The uniqueness of the Seminar comes from the combination of 3 crucial factors: topics, speakers, and the fellowship. The result exceeded the expectations of all participants. The selection of topics was well-thought-out. Each day was devoted to a different theme: statecraft and foreign policy, global politics and security, international economy and development, human security, as well as values and international relations. The issues were both general and crucial for the moment, which allowed the group to learn something new and, at the same time, direct the conversation to the topics we considered the most important. The formula of the lectures gave much freedom – each session started with a 30-minute lecture, after which we moved on to a 45-minute discussion, which was often very challenging for both participants and speakers.
All speakers at GLS were top-notch specialists in their field with extensive experience and reputation in the scientific community. All lectures were inspiring, but some made especially great impression on me, including: a lecture on nuclear weapons and deterrence with former Ambassador Robert Gallucci; a session led by Mr. Sean Kanuck on cybersecurity; a lecture about global health security threats by Dr. Rebecca Katz; a show made by Dr. Anthony Arend on the future of the international system; and, of course, a conversation with Secretary Madeleine K. Albright on authoritarianism and fascism.
The third element and probably most important is the incredibly well-selected group of participants: 31 people from 25 countries and 5 different continents. These 31 people represented three sectors: administration, business, and NGOs. We even had our own priest! Such a selected group can be described as "explosive mixture," but still, everyone was very friendly. Through intense debates, we were able to come to interesting conclusions that often even caught some speakers by surprise. At the same time, we were able to establish relationships that will certainly stand the test of time.
Imagine this: world-class speakers meeting in one place with a very demanding and diverse group to discuss the world's most important issues. As there were many topics, there were many different viewpoints on the same problems or opportunities – what seems important to us, for another country or social group may be completely irrelevant; what is fatal for us can be beneficial to our neighbor. This unique combination has sometimes led to very heated debates, but that is what it is all about: talking and trying to understand each other to seek common solutions.
4.            Networking
GLS is more than just lectures and the unique opportunity to broaden your horizons. It is also an opportunity to make significant connections. As if someone thought that 31 participants from 25 countries were still not enough, GLS organizers made sure that we had working lunches and formal suppers every day, attended not only by participants but also by GLS alumni and other guests. Each meeting was different, and every time I had the opportunity to meet new personalities who inspired me with their stories and experiences. During one of such occasions, I had the pleasure to meet Dean Emeritus Peter F. Krogh.
5.            Dean Emeritus Peter F. Krogh
Peter F. Krogh is Dean Emeritus and Distinguished Professor of International Affairs at Georgetown University's Edmund A. Walsh School of Foreign Service. Dean Peter is one of the founders of this program and generously hosted the whole GLS 2018 group in his house for lunch. He shared the memories of the previous GLS's and most importantly, of Jan Karski. They were friends for about 40 years, and this was an amazing opportunity to hear about Jan Karski from a very personal perspective. Unknown stories about Karski, told with passion by his friend, made a great impression on me. I was even more moved by how Dean talked about Karski. As soon as he went back to his memories of Jan Karski, a palette of emotions appeared on his face, from admiration and emotions even on the verge of tears. This showed how strong their relationship was and how much they valued each other. Together with Monika, we told all the participants about Jan Karski – about his mission, achievements, and how great a hero he is for Poland and for the humanity. If we can consider ourselves as Jan Karski's "ambassadors," then Dean Peter is his living monument. A touching and unforgettable meeting.
6.            Washington, D.C.
In the background of all this extraordinary event, there was a beautiful university – the oldest Catholic and Jesuit-affiliated institution of higher education in the United States. Washington, D.C., overwhelms with its size, but at the same time, it delights with its architecture. At first glance, it looks like a lazy city, yet it hides a lot of wonders and attractions. I managed to visit the Capitol Building, the U.S. Holocaust Memorial Museum, American Indian Museum, Air and Space Museum, and Natural History Museum.
7.            Conclusion
My participation in the GLS 2018 was a great learning opportunity. It strengthened my qualifications, broaden my horizons, and obviously contributed to a better understanding of the world. I believe it will benefit not only my professional development but also my workplace and the country! I came back to Poland full of energy and a will to continue my governmental work. Moreover, seeing how Jan Karski influenced whole Georgetown community assured me that I would do my best to instill in people the values of leadership, courage, and integrity, exemplified by the life of Jan Karski and to be more involved in the Foundation activities.
— Wojciech Szkotnicki
Please read more about the GLS program and the profiles of JKEF scholarship recipients here.