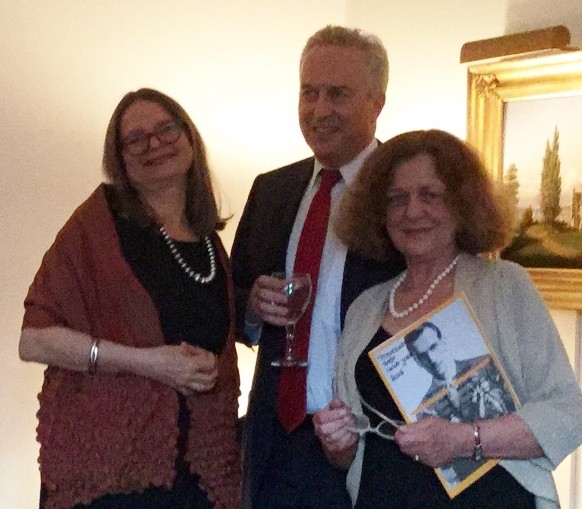 Writer Agata Tuszyńska, Chairman of the Board of the Jan Karski Educational Foundation Andrzej Rojek and President of Fundacja Edukacyjna Jana Karskiego Ewa Junczyk-Ziomecka (Photo: JKEF)
New York – On May 19, 2016, the Jan Karski Educational Foundation proudly hosted a reading by writer, poet and journalist, Agata Tuszyńska, author of Family History of Fear: A Memoir at the home of philanthropist Patti Kenner.  
The evening began with welcome remarks from Andrzej Rojek, Chairman of the Board of the Jan Karski Educational Foundation. Ewa Junczyk-Ziomecka, President of Fundacja Edukacyjna Jana Karskiego then gave a presentation entitled "Jan Karski – a Man Who Tried to Stop the Holocaust" informing the crowd of Karski's legacy, and how it is carried on by the Foundation, via our educational programs, publications, and events.
Then author Agata Tuszyńska took the stage, to read from her memoir, Family History of Fear: "This fear has been in me for years. Along with this secret. From the instant I found out I was not who I thought I was." She was nineteen when her mother revealed to her that she was Jewish and told her stories of the family's secret past in Poland. Like Tuszyńska's mother, many Poles did not speak to their children about their wartime experiences—of the underground Home Army, the Warsaw Uprising of 1944, and the civil war against the Communists.
Tuszyńska spoke about how she grew up surrounded by anti-Semitism, rarely hearing the word "Jew" unless it was spoken by her Polish Catholic father, who would use definitive anti-Semitic slurs, and how this made her "unhinged, ashamed, and humiliated." (He actually knew his wife was Jewish.) She then told some of her mother's story, how at age eight she entered the Warsaw Ghetto, finally escaping just before the Ghetto Uprising, and then how she began a hidden life "on the other side."
Tuszyńska poignantly added, "I like to imagine that when Karski first visited the Warsaw Ghetto, that my mother was one of the children he saw that helped inspire him in his mission."
We would like to thank Patti Kenner for her hospitality, and Agata Tuszyńska for sharing her story with us live, and in her moving book, which provides a potent portrait of Polish Jewish life, before and after WWII.