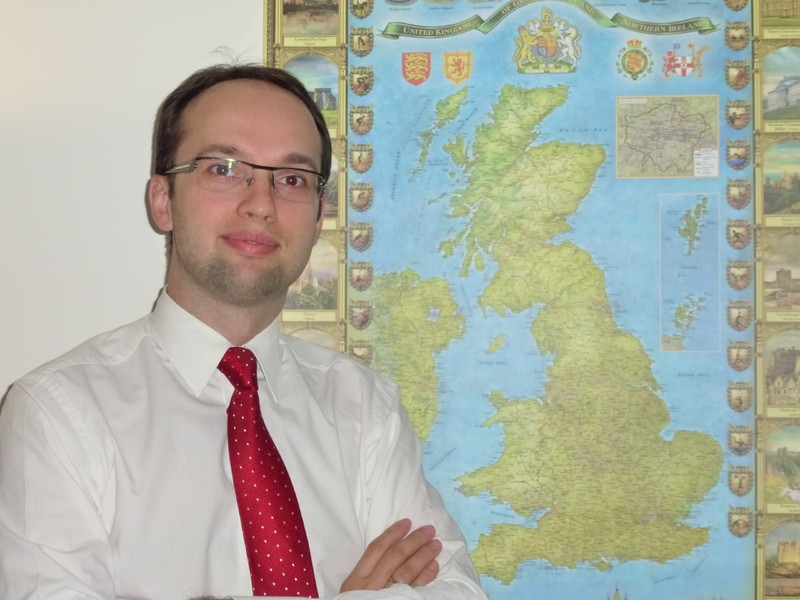 (Photo: courtesy of Rafal Siemianowski)
Warsaw, Poland – A young Polish diplomat, Rafał Siemianowski (in the picture), has been selected to participate in the annual Georgetown Leadership Seminar at the Georgetown School of Foreign Service this fall. He is the recipient of the first annual Jan Karski scholarship for the program that will take place in October 26-31, 2014 in Washington, DC. The scholarship is sponsored by the Jan Karski Educational Foundation in cooperation with its sister foundation, Fundacja Edukacyjna Jana Karskiego, which administered the selection process.
Founded in 1982, the Georgetown Leadership Seminar is the premier executive education program at Georgetown's School of Foreign Service, bringing rising leaders from around the world to the campus for a week of intensive discussion on major international issues. The GLS vision is to promote dialogue on global affairs among individuals who will help shape the future of their organizations and countries. 
"We are glad that the 2014 GLS program in this Jan Karski Centennial Year will include a section on the responsibility to protect in international law and foreign policy, a cornerstone of Karski's mission during World War II and a topic of equal relevance to the world today," says Michal H. Mrozek, Jan Karski Educational Foundation Director, who was actively involved in this initiative.
GLS has over 900 alumni from more than 100 countries, including individuals who went on to become presidents, prime ministers, cabinet secretaries, generals, ambassadors, and CEOs. Among the most prominent alumni are Spanish King Felipe, EU Commission President Jose Barroso, NATO Secretary General designate and former Norwegian Prime Minister Jens Stoltenberg and Foreign Minister and former Prime Minister of France Alain Juppe as well as a number of prominent cabinet members and parliamentarians from Asia and Latin America. Click the link for more information about Georgetown Leadership Seminar.
Rafal Siemianowski is a graduate of the University of Warsaw in Foreign Relations and the National School of Public Administration (Krajowa Szkoła Administracji Publicznej). He has worked at the Polish Prime Minister's Office and completed an internship at the La Manche Prefecture in France and the European Commission. He is currently working at the Embassy of the Republic of Poland in London, where he is responsible for education and the cooperation with British universities, as well as politics of Middle East, Australia and Oceania, Africa, and Latin America.
"The Georgetown Leadership Seminar offers a unique opportunity to broaden my knowledge of American foreign policy while exchanging views on current international affairs with people of different national and professional backgrounds," says Rafal Siemianowski. "After more than eight years as a civil servant, I am well aware how it is important to gain such international experience. In this era of globalization, Poland is becoming more and more a significant player on the European and international stage, and I see Jan Karski as the patron of my experience in Washington. His values should be promoted among all people involved in public service."