In the midst of World War II, Jan Karski was dispatched by the Polish Underground to inform Western Allies about the reign of terror in German Nazi-occupied Poland - including the ongoing slaughter of the Jewish population – and to seek intervention. Karski's courageous mission, against all odds in the darkest of hours, qualifies him as Humanity's Hero. His testimony sets the record straight about what the world knew about the Holocaust when there was still time to act.
His lifetime of service to humanity – as an emissary, as a distinguished educator at Georgetown University, and as a voice of conscience – places him in the first rank of world figures from the twentieth century. Karski's extraordinary legacy was recognized by President Barack Obama on May 29, 2012, when he was decorated posthumously with the Presidential Medal of Freedom, America's highest civilian honor.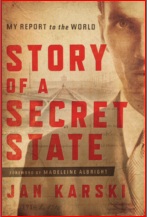 The Foundation grew out of the successful Jan Karski US Centennial Campaign, established in May 2011, which placed Dr. Karski's name in nomination for the Presidential Medal of Freedom.
The Jan Karski Educational Foundation has established two sister Foundations, one in the US and one in Poland. Its work will continue as long as young and old seek inspiration about how to act with courage when conditions are at their worst, how to become messengers for truth and to act on behalf of oppressed peoples everywhere.
---
Click the book cover to buy "Story of a Secret State" with 30% discount - use discount code TX10