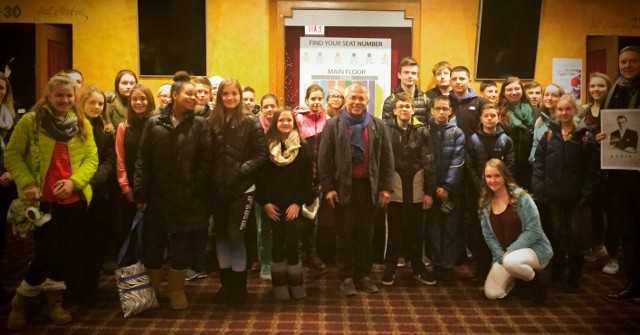 The film's director Sławomir Grünberg with students of the Jan Karski Polish School in Palos Hills, IL, and their teacher Marek Adamczyk (Courtesy of Sławomir Grünberg)
Chicago, IL – Copernicus Center in Chicago presented the screening of the award winning documentary Karski & The Lords of Humanity by Emmy award winner Sławomir Grünberg to Polish-American community schools in Chicago on December 3. Jan Karski's message of moral courage and tolerance reached over 300 students and teachers from six Chicago area schools. The screening was followed by a Q&A with the director, who was impressed with the depth of the questions students asked.
After the screening, Marek Adamczyk, Principal Assistant at the Jan Karski Polish School in Palos Hills, IL, wrote this note to the director:
"Thank you for this wonderful and inspiring work. We were all deeply moved by the documentary. It was an unforgettable lesson of humanism for our students. The medium is very appealing to the young audience. Bravo! We are delighted to have participated in this showing and proud that our school carries the name of our superhero, Jan Karski."
See the trailer of the movie intertwined with the interview with the director here.
See more information about the movie here.
Follow our calendar to see future screenings.
The Jan Karski Educational Foundation is a co-sponsor of the film's US distribution.