Warsaw, Poland – on November 29, Fundacja Edukacyjna Jana Karskiego (FEJK), the sister organization of the Jan Karski Educational Foundation, launched the "Karski My Hero" project, addressed to educators and middle and high school students. The event, which took place during the Historic Books Fair at the Royal Castle in Warsaw, was attended by many honored guests, including Ann Azari, Ambassador of Israel to Poland; Mirosław Sanek, Director of Political Office at the Polish Ministry of Education; Dariusz Jadowski, Director of the Department of Education and Publishing at the National Bank of Poland; and Robert Kostro, Director of the Polish History Museum, one of FEJK's most important partners.
In attendance were also representatives of over 30 schools from the Mazovian Voivodship (administrative region, similar to US state or county), who were presented with the copies of Karski's Story of a Secret State and the educational packet "Jan Karski: Humanity's Hero" by President of the Fundacja Edukacyjna Jana Karskiego, Ewa Junczyk-Ziomecka and Director Kostro.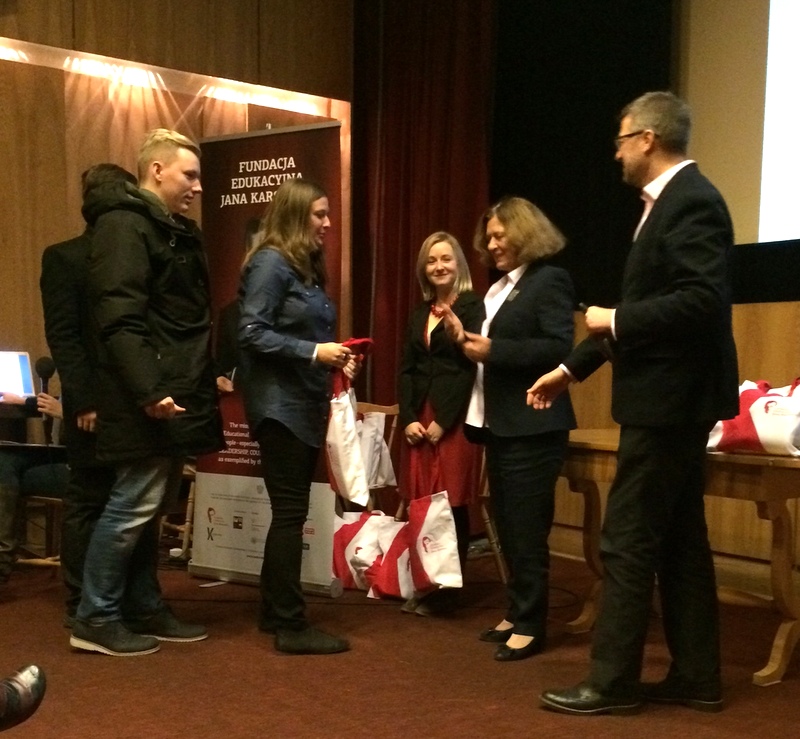 During the event, Szymon Pawlak of the Marek Edelman Dialogue Center in Łódź, recipient of the Foundation's scholarship to attend the annual Georgetown Leadership Seminar, talked about how deeply Karski's example impacts young people. He introduced Oskar Śliwiński, who created a rap about the emissary of the Polish Underground, "Biography of the Hero"  (click on the link to see it). Director Kostro made a short presentation about the new comic book Karski's Mission: to Stop the Holocaust, a collaborative project of the Jan Karski Educational Foundation and the Polish History Museum.
The main goal of the "Karski My Hero" project, which will include schools from around the country and will run through the whole year of 2016, is to promote the values of courage, responsibility, respect for human dignity and inter-cultural dialogue as exemplified by Jan Karski. It is part of the national educational campaign to encourage young people to read, but at the same time to convince them that what they read matters. Story of a Secret State not only is a well-written book but also presents young readers with an excellent role model. It shows the realities of WWII through the eyes of a young man who demonstrated incredible acts of courage and moral stamina.
The project will encompass other events all over Poland and will engage partners from diverse cirlces such as education, culture, entertainment, and media, at the local, regional and national level.